When Dylan Wilson shared his views on The Panel Station, it meant a few plain words for many. But for us, it contained an array of valuable remarks which made us believe in our vision and how our esteemed panellists perceive our constructive culture. 
Emotions, as Dylan had poured in, make us learn about impassionate triggers and help measure the feelings that drive human behaviour. An honest evaluation influences decisions and helps evolve a product/service in the interest of commoners. 
Feedback is an essential communication tool, where users share their assent or criticism and, in turn, help predict future actions and behaviours. 
Let's take a look at the importance of consumer feedback and how we can excel at providing the same:
Create a healthy environment where views & opinions are accepted irrespective of their nature.

Feedback is necessary at every step and moment. So, do not hesitate to offer your words at times.

Encourage members to provide honest feedback. 
It is also imperative to recognize cognitive prejudice and bias in feedback. Commonly termed as an inclination of temperament, biases might undermine the value and relevancy of reviews and surveys.
Consider opinions are framed with finesse to intrigue the market. What will be its effect? It will deflect the purpose of the survey by falsifying perspective, as we all know that aggravated leniency misleads survey data. 
The Panel Station is the perfect stopover where businesses and brands seek plausible assessments that could strengthen their beliefs and optimistic attitude about their products/services and stimulate profit levels.
We are committed to our treasured panellists from regions across extremities as a community to share opinions and answer market-related concerns about making the world a place with better materialistic happiness.
The Importance of Feedback in Surveys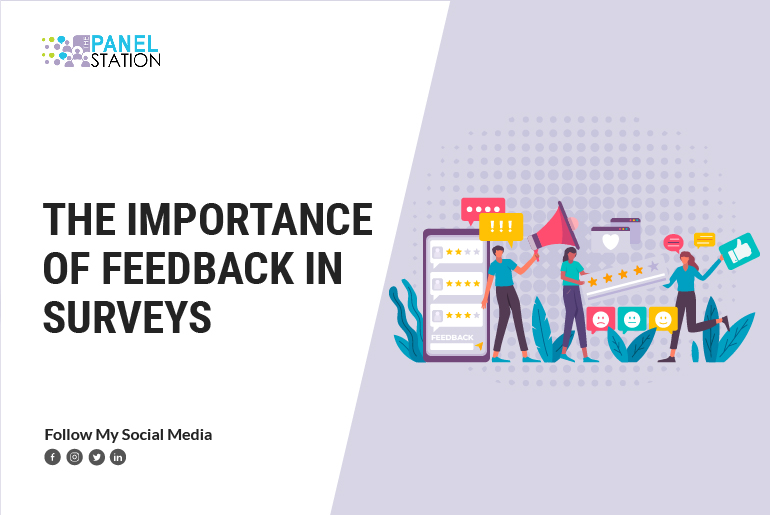 Feedback at this level serves as an optimum resource to tap into consumers' minds and cull up the source of functional utility out of an offering. A customer makes a purchase decision on three things:
Needs –

The basic human requirements like food, shelter, and clothing.

Wants –

which specify the essential for humans to survive.

Demands –

aka desires when a human has the ability and willingness to act on the 'wants'.
So, to understand the purchasing power and decision-making, along with the psychological, physiological, social, & cultural aspects, it is necessary to collect reviews at every step of product evolution. 
We assess the above particulars and frame our survey questionnaires for cautious and conscious reviews from our community of 6.8 million panellists. We speak as consumers for consumers to ingrain an expression of convivial tonality and moral recognition.
Here's a few reasons why feedback is important for brands and businesses
Feedback helps improve & upgrade a product or service.
Products or services are offered to go through a continuous process of evolution to understand the preferences, advantages, and flaws exhibited at different levels. It's best to evaluate such a commodity with the help of feedback furnished through surveys. 
Feedback helps measure consumer satisfaction. 
"How would you rate your overall satisfaction with the" [product/service]? 
We probably would have filled out such a form in the near past. So, how does this help businesses at all?
Loyalty & Customer Retention are stout texts in matters of public language. But in reality, terms like these make businesses oversee their competitors and stand to affirm for a long time. Reason: Shared opinions are a natural way to gap the bridges between expectations and market offerings. We alternate and tweak tiny junctures to generate extraordinary user experiences.
Surveys also help evaluate the Customer Satisfaction Score (CSAT), interlinked with the company's financial performance. There's a close link between consumer satisfaction and business performance, as corroborated by research. 
Feedback helps businesses make constructive decisions
. 
Feedback is one of the most dedicated and definitive sources of tangible data which supports and nurtures businesses' decision-making process. Imagine you want to purchase a car in the next three months. You see commercials, work on your research, heed expert advice and oversee your finances. 
Is that all? Probably not! 
You may head out to know your friends' affinity and reviews or weigh in the feasibility and foregone conclusion particulars. Feedback surveys let brands and businesses acknowledge the depths and desires and conjoin the accomodating in-betweens to institute exclusives for you – the buyer.
Your valuable feedback!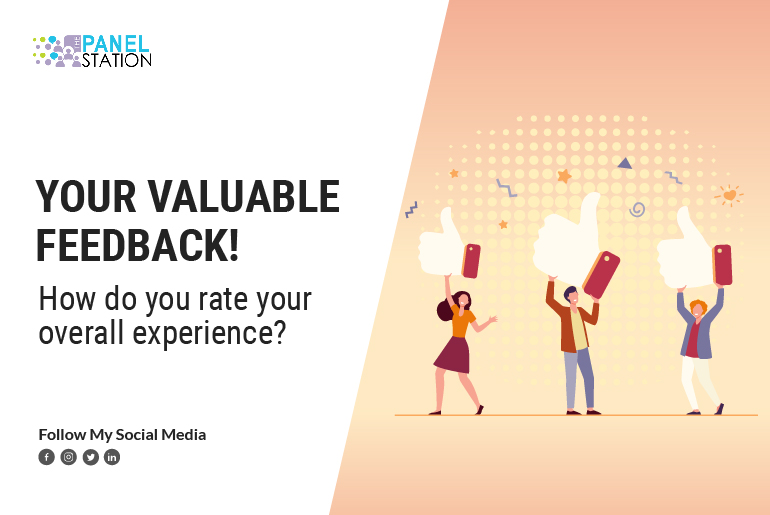 How do you rate your overall experience?
A consumer feedback is a cornerstone of marketing initiatives. Nevertheless, a pragmatic approach to amplifying productivity and consumer happiness never hurts to establish credibility and authority.
The Panel Station can cut through the loose ends and secure the future of your business and brands as and whence the opinions of millions combine, brands get better insights to explore possibilities. Promises, promises!
In a world of volatile markets, we can't carry the burden of being mediocre. We have to perform and level the game before our adversaries on the following premises cut close to us. It's not just a prerequisite; it's a mandate: work smart or retire and rest.
We are only an email away, should you ever be fascinated to pull the strings and aim the odds in your favour. Reach us at: india@thepanelstationsurveys3.com for more information.