The pandemic struck intensely in the tourism industry. When the world is back on track, we all thrive on exploring again. India is one of the best attractions for tourists from all over the world. With 28 incredible states and 8 union territories, India is entitled to the world's gem for tourism. We have prepared the entire list of Indian states for tourism for you to plan for your vacation.
Let's take you on the journey to India to witness the world of beautiful people, cultures, food, and more.
Andhra Pradesh:
Want to add some coastal flavour to your travel list? Then travel to Andhra Pradesh in winter. With the divine view of the Bay of Bengal, the south-eastern state has a rich history, wildlife, and beautiful architecture that is enough to surprise you in your every step. You should avoid the rainy season for travelling if you don't want to be caught in natural disasters (Cyclones). Kalamkari & Bidri artwork and Kondapalli wood dolls could be your first preference on your shopping list to add vintage character to your home interior. To reach Andhra Pradesh, you can choose air, road, or rail. With the help of Visakhapatnam Airport international, this state also offers a flexible communication infrastructure to international travellers.
Arunachal Pradesh: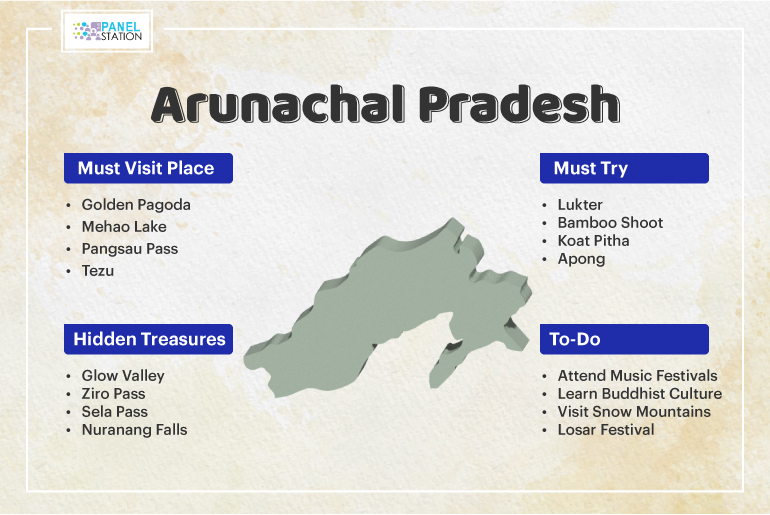 The remotest state of India, Arunachal Pradesh, witnesses the country's first sunrise and offers you the tranquillity of being with nature. It is also famous for its handicrafts & fabrics. Traditional costumes, made of natural herbal dye yarns, are one of the best attires you can purchase, along with bamboo & cane made items.
After years, nature's beauty is not far from our reach. Even though the state has faced many challenges in developing an affordable and convenient commute system because of its geography. Tezu, a domestic airport in Arunachal Pradesh, opens its doors to adventure lovers. It is always recommended to contact Arunachal Pradesh Tourism for more information before planning any trip.
Assam:
This mesmerising state will never fail to surprise you with its divine flora and fauna. Situated in the foothill of the Himalayan mountain range, this state has history, culture, nature, and everything else that an adventurous soul could seek. While in Assam, you don't want to miss the famous Bihu Utsav in April. And if we talk about shopping, Assam silk and Assam tea could be great as souvenirs and gifts.
November to May is the most pleasant time to visit the mystical state of India. Guwahati International airport allows travellers for a hassle-free commute. Roads and trains are also considered to be excellent means of transport.
Andaman & Nicobar Islands:
Andaman & Nicobar is a collection of islands with some awe-inspiring beaches and heritage sightseeing options. This Union Territory of India offers world-class tourism experiences with several water sports and adventures. Portblair International Airport connects Andaman and Nicobar Islands with the mainland of India. After landing at the airport, you can use a ferry, boat, or helicopter for interconnectivity. October to July is the best time to indulge in island activities with friends and family.
Bihar: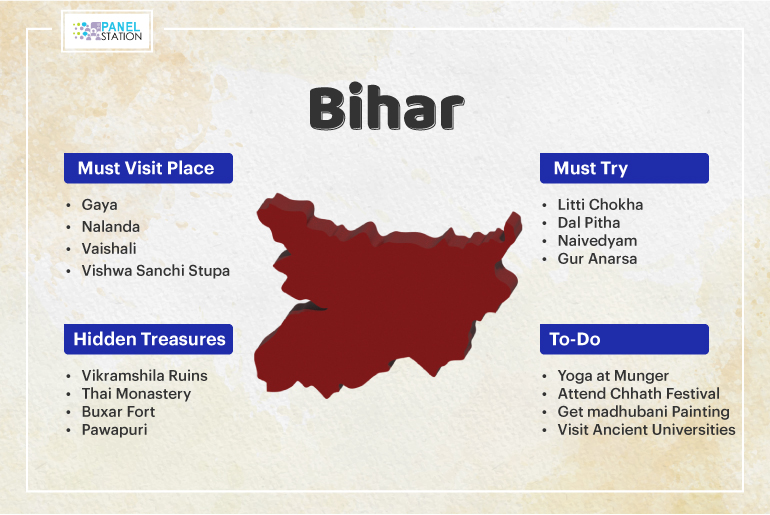 Everybody finds something to enjoy in Bihar, from its vibrant metropolis to its serene forests. Exploring Bihar will be incomplete if you miss buying some traditional Madhubani paintings and terracotta crafts. All time of the year is perfect for visiting this diversified and richly cultural Indian state except the rainy season. Like most parts of India, the state has travel facilities connecting with the nation via road, rail, & air.
Chandigarh:
Situated in western India, Chandigarh, the Union Territory of India, has much to offer. Its newly launched double-decker tourist bus provides a once-in-a-lifetime opportunity to see the top tourist destinations in the charming city. You can reach Chandigarh by car, train, or by flight. Winter is a great time to visit.
Chhattisgarh: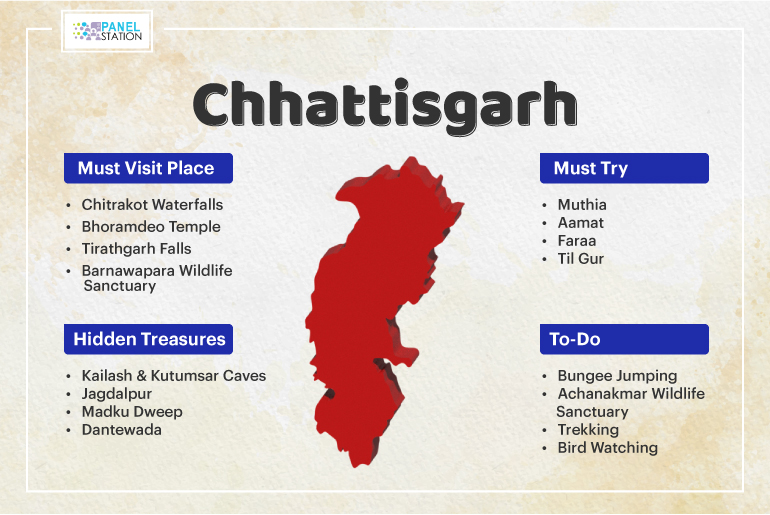 For adventurous travellers, Chhattisgarh features a long list of must-see locations, including national parks, wildlife habitats, caves, temples, museums, and more. Planning your trip during the winter is ideal because conditions are usually dry, and the sceneries are lush and green from earlier in the year's heavy rainfall. Stone carving painting is the finest option if you want to shop.
Dadra & Nagar Haveli, Daman & Diu: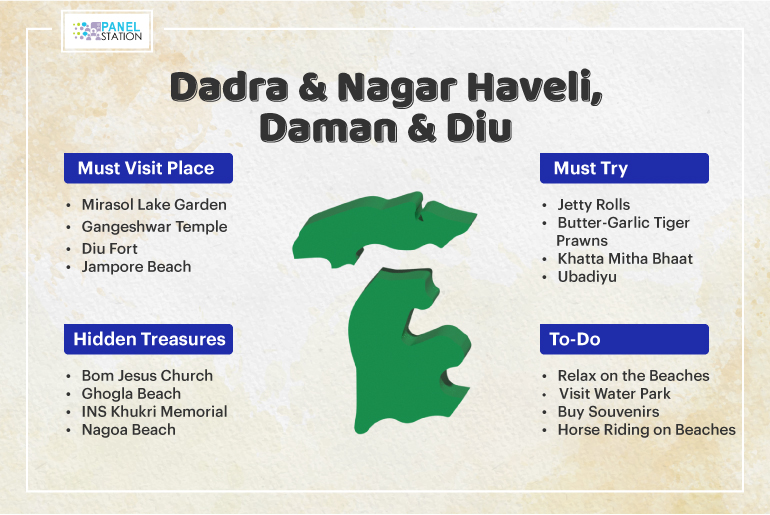 There are two distinct components to the Union Territory of Dadra and Nagar Haveli, Daman and Diu are located close to India's western coast. The region has hilly terrain of Sahyadri Mountain ranges and the Arabian Sea. This region is traversed by the River Daman Ganga and its three tributaries. Also, there are beaches, forts, temples, caves, and more to explore.
Delhi:
The capital and the heart of India, Delhi, has Beautiful monuments to appetising foods. Delhi has one of the world's cheapest, busiest, and largest shopping markets. So, whenever you visit Delhi, make sure to load your bag with amazing arts, crafts, dresses, and many more. Hop around in the streets of Delhi when the weather is pleasant, mostly winter and spring. Well, Delhi has India's largest metro service. Also buses, auto, rikshaw, and other means of transport are perfect for travelling.
Goa: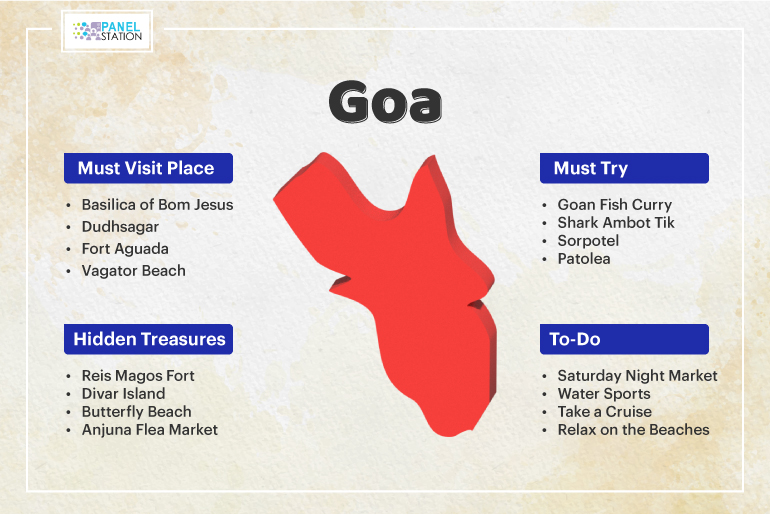 Think of beautiful beaches and sunset; you must visit Goa. This Indian state is situated on the coast of the Arabian sea and offers relaxing cruises to the local cuisine, from live music to an immersed culture. One of the adventurous ways to enjoy Goa rather than the beaches is to board Noah's Ark, Hiking, Bungy Jumping and take Hot Air Ballon Ride. Goa International Airport is the most accessible means of transport to reach there.
Gujarat: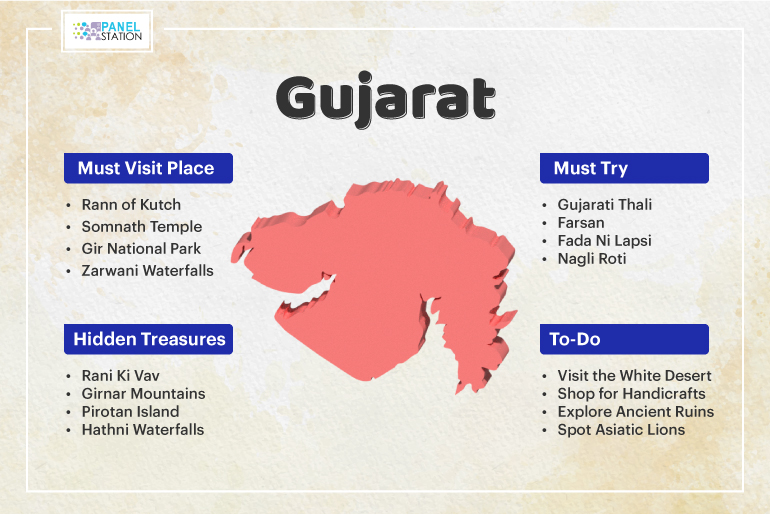 Gujarat is located in the western corner of India. Gujarat has beaches, heritage sites, flora and fauna, religious sites, bird watching sites and the Gandhi circuit. Pick your trail to explore Gujarat. For shopping, Zardosi to Warli Painting, Meenakari to Bandhani, Gujarat has an array of a wide variety of crafts. The stated is feasible in terms of transport with the facilities like flights, buses, local transportation, and trains.
Haryana: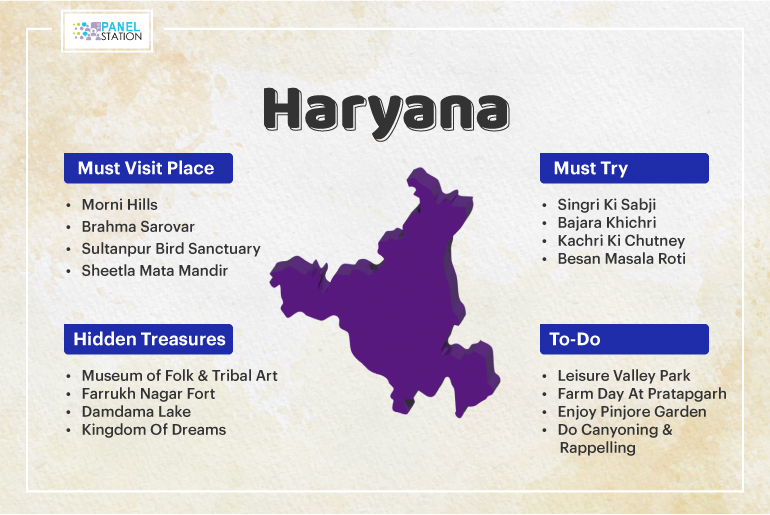 Haryana, a Vedic region, has served as the birthplace of Indian culture and civilisation. Witness ageless traditions and a cultural mindset that appeals to all visitors while in Haryana. The largest craft fair in the world, Surajkund International Crafts Mela (March to April), highlights the diversity of local, national, and international traditions. The state has something for everyone, from farmland to palaces, temples to Shivalik Hills. Delhi is the closest international airport, and Hisar is Haryana's domestic airport. Aside from air travel, Haryana has a strong infrastructure that flawlessly integrates intrastate and interstate travel by road and rail, providing flexibility for commuting while travelling.
Himachal Pradesh:
Himachal Pradesh is renowned for its magnificent Himalayan beauty and culture. This is the home of some famous tourist spots of India like Shimla, Manali, Dharamshala, Kullu, etc. The best time to visit the state to see snow-covered mountains, a variety of flora and fauna, festivals, and more is in the summer. One of the most well-known events of the year is the Manali Winter Carnival. All travellers can enjoy hassle-free air travel via Kulu Airport, which also has good connections to Delhi International Airport.
Jharkhand: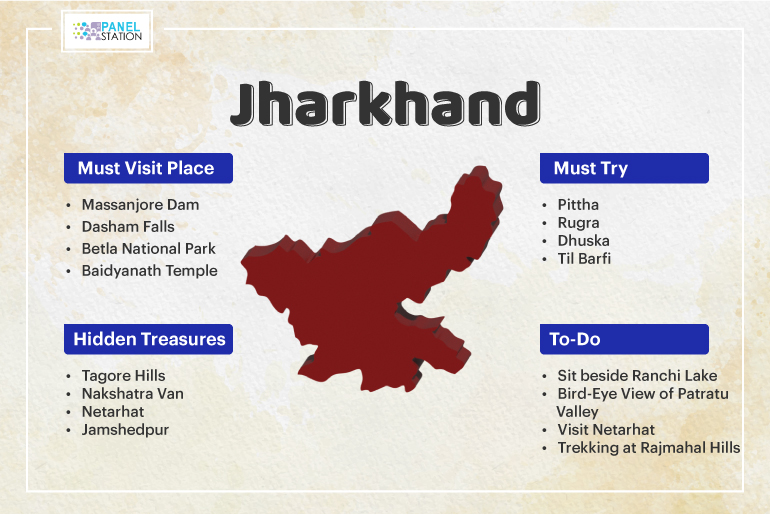 Because of its extensive cultural heritage, Jharkhand, the land of the forests, has emerged as one of India's most popular tourist destinations. This state offers spiritual sites, waterfalls, forests, adventure, the chance to explore tribal lands, and other hidden gems for travellers. For your souvenir collection, tribal art and crafts are great. You can attend various fairs and festivals and buy your favourite souvenirs. Any season you can pick to explore Jharkhand. But the summer months are particularly scorching; we would suggest avoiding it.
Jammu & Kashmir: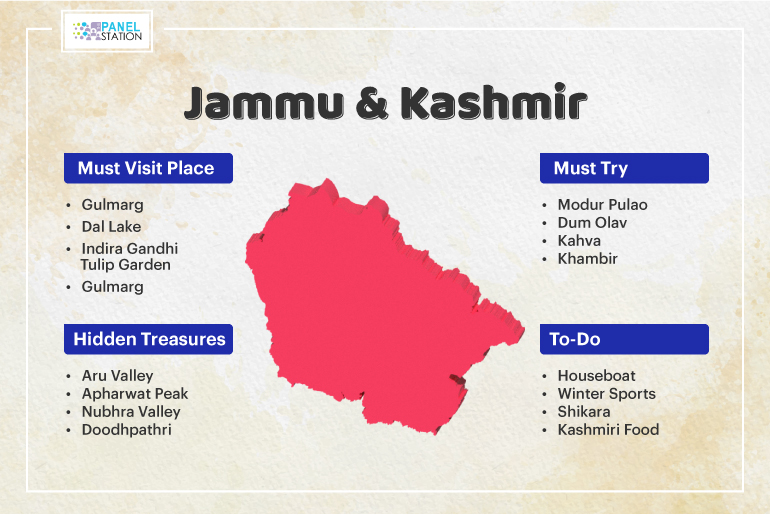 Kashmir has four unique seasons, each with its own peculiar characteristics. The valley looks to be painted with a multitude of colours, with various hues dispersed throughout. Embroidered Pherans, willow Baskets, and Pashmina Shawls are popular items to acquire as mementoes. Kashmir offers all-year-round the opportunity to enjoy nature. The primary airport of this union territory, Srinagar, has excellent connections to India's most important cities.
Karnataka:
Travellers may experience a natural and historical blend in Karnataka, a state in southwest India, thanks to its coastline and lush, green western ghat mountains. Everything is served on one platter known as Karnataka—calmness, spirituality, the wild, grandeur, the seashore, heritage, and festivals. Mysore silk, Coorg coffee, Rosewood inlay art, and spices should be on your purchasing list when visiting natural and spiritual attractions. Connecting with travellers from around the world is made easy by the Bangalore International Airport.
Kerala: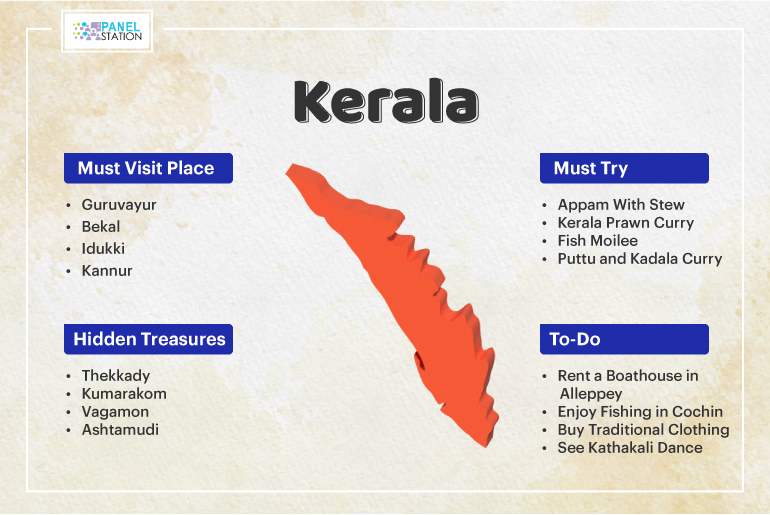 Kerala is famed for its palm-lined beaches, long tropical Arabian coastline, backwaters, and extensive network of canals. The Western Ghats are mountains in the core that are home to wildlife and the cultivation of tea, coffee, and spices. The stunning snake boat league known as the Champions Boat League, one of the most incredible sights, is annually witnessed on Kerala's vast backwaters. It's a visual delight, for sure. And if you're having trouble finding the ideal souvenir, aromatic oils and essence would be superb options. Planning a stay at a boat house is something you shouldn't skip. Four international airports in Thiruvananthapuram, Kochi, Kannur, and Kozhikode make Kerala easily accessible by air.
Ladakh:
Ladakh, a recently constituted union territory, is a tourist's perennial summertime favourite. This is well-known for its road adventures while enjoying the Himalayan mountain range's breathtaking scenery. Even though the tourist season begins in May and lasts until September, you can visit Ladakh whenever you like. Leh is well-known among travellers worldwide and receives a significant influx of visitors from domestic and foreign countries. Leh, the capital city, has an airport connected to Kashmir and Himachal by highways that cross high mountain passes. These are the finest routes to travel to Ladakh.
Lakshadweep:
Lakshadweep is undoubtedly a dream destination for many sea lovers, offering stunning beaches and exhilarating activities. Lakshadweep is renowned for offering luxurious accommodations that are both wonderful and good value. Kochi serves as the entry point to Lakshadweep for all tourist purposes. From Kochi, you can take aircraft or ships to get to Lakshadweep Island. From mid-October to mid-May is the ideal season to travel to Lakshadweep.
Madhya Pradesh:
The state, situated in the heart of India, possesses some scenic beauty of the world. The home of the Vindhyachal & Satpura mountain ranges, this state offers a perfect blend of natural landscape & architectural heritage for travel enthusiasts. While travelling, you can't miss shopping. We would suggest buying some traditional Indian clothes to add freshness to your wardrobe. Madhya Pradesh is famous for many local handicrafts, but their fabric and woven technique are appreciated all over India. If you want to witness the beauty of the state, winter is the perfect time to plan your travel. The state is well connected via national and state highways; also, the state is a junction of the West Central Railway, the Central Railway and the Western Railway and has 5 operational airports.
Manipur:
Manipur, Gateway to South East Asia, is located in the Eastern Himalayan foothills, sharing its border with Myanmar. The state is a potential travel destination for ecology and adventure lovers equally because it's untapped and least explored places. If you were to buy some souvenirs, handloom would be the brilliant choice as the state's primary cottage industry is the handloom sector. Imphal Tulihal Airport connects other important Indian cities, including Delhi, Hyderabad, Kolkata, and Guwahati, to the lovely city of Imphal, the capital of Manipur. Another option for transportation is the bus route. To visit there, plan your journey in the winter season and enjoys several festivals.
Maharastra :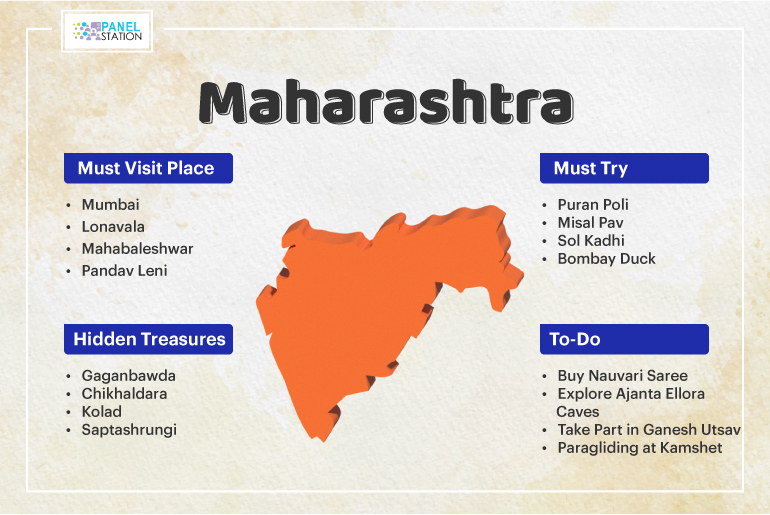 India's western state is called Maharastra. The Maharastra, the home of the Bollywood industry, not only adds glitz to your holiday plans but also gives you the most adventurous experience you could ever imagine. Connoisseurs of temples, forts, monuments, and art will have plenty to keep them amused here. Maharashtra has a multicultural, progressive, tolerant, and lively atmosphere. So, when it's not raining, organise your trip to suit your preferences.
Meghalaya:
The northeastern state of India, Meghalaya, is blessed with beauty on many levels. Unexplored forests, verdant valleys, odd rock formations, and mountain streams are all found in one location where you can discover both adventure and tranquilly. The most excellent time of year to discover Meghalaya's breathtaking beauty is from November to March. The closest airport with a connection to Meghalaya is Guwahati Airport. Take a bus or a private taxi from there to reach your destination point in Meghalaya. When planning to visit, you should include Shad Suk Mynsiem festival, one of the neighbourhood's biggest events, to witness the culture of the state.
Mizoram:
The tourism industry of Mizoram is renowned for its breathtaking vistas from cliffs, spectacular waterfalls, and attractive towns amidst seas of morning mist that embrace the hills and peaks. The ideal period is October through March, as the rainy season makes the roadways risky.
Mizoram has road, rail, and air connectivity to the rest of the nation. The closest railway station is Silchar, and the closest airport is Aizawl. From Aizawl, buses and maxi cabs are accessible. Despite its challenging geography, the state has a good communication infrastructure.
Nagaland:
A mysterious place characterised by spirited people who passionately protect the traditional heritage of Nagaland. Many of our folktales, folksongs, and legends from our rich culture and history have been passed down from generation to generation in old Naga traditional homes. Nagaland is a traveller's paradise with its rich cultural heritage and breathtaking landscapes. The airport at Dimapur is the greatest option for travel there by plane. You can go to your destination from there through road transportation.
The "Hornbill Festival," where the music reverberates in the authentic spirit of the tribal men, and the chants of the old Nagas resound, is the most vibrant. You can see the festival if you schedule your trip for December.
Odisha: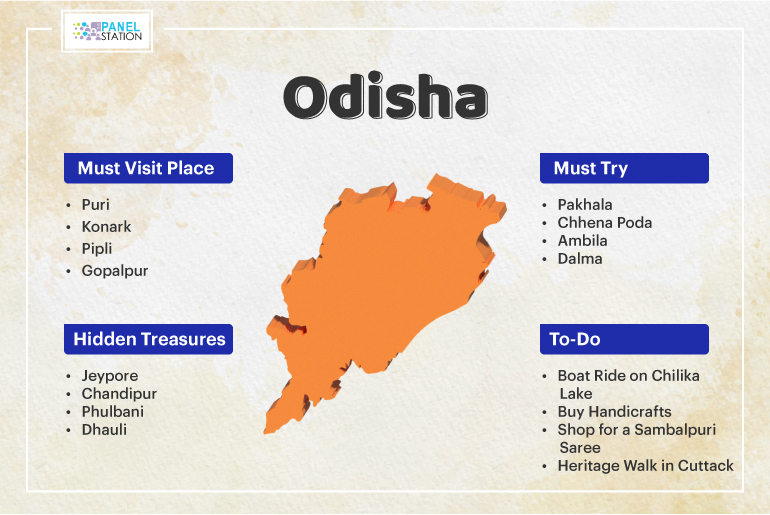 With the scenic beauty of the Bay of Bengal, evergreen mountains of eastern ghats, and diverse nature, Odisha has every corner for travellers to explore. Odisha is a temple-rich state with a unique location for spiritual relief because of the antiquity of the temples and the tranquil and spectacular natural extravaganza. You can purchase appliqué, dhokra, bell metal, pattachitra, cane and bamboo, terracotta, palm leaf etching, and art textiles as gifts for your loved ones. The greatest time of year to visit Odisha is at any time of year. You can take an aeroplane, train, or other road transport to your destination.
Panjab:
The people of Punjab, the land of five rivers, are cheerful, welcoming, and vibrant. Punjab is well-known for its historical landmarks and rich culture. It is a place of ethnic and theological diversity and is widely regarded as the birthplace of civilisation. It has produced and shaped numerous religious movements, including Sikhism, Buddhism, and Sufism. Panjab's rich history may be seen in numerous places, from ancient structures to religious sites. Punjab is best visited in the spring and the autumn. Punjab is well connected to other regions of India by an extensive rail network and has two airports at Chandigarh and Amritsar. In addition, a first-rate system of state highways and roads links Punjab's key cities.
Puducherry:
A city of Bon vivant with history, tranquilly, amazing food, and memories waiting for you. Pondicherry is a destination that no seasoned traveller would want to skip. While many attractions in Pondicherry may be seen in a single day, spending two days in the picturesque town is a better option. As you unwind while enjoying the stunning Arabian Sea vista, don't forget to bring home some souvenirs to help you remember the good times.
Pondicherry city is generally considered to be ideal for travelling between October and March. And the best way to reach the city is by road, but it is also accessible by train and flight. Chennai International Airport is closest to the place, and Villupuram is the nearest railway station.
Rajasthan:
India's northwest state is referred to as the "country of the Maharajas." Rajasthan is a unique location in and of itself, nestled between the rugged Aravalli mountain ranges and the golden-sanded Thar Desert. Rajasthan draws visitors worldwide due to its wonderful celebrations of cultures and customs and unmatched royal experience. The finest artwork from Rajasthan, including Phads, Pichwais, and Blue Pottery, should be on your purchasing list. The best time to visit Rajasthan is generally in the winter.
Rajasthan, a significant tourism destination, has three airports that link local and foreign locations. However, Train travel to Rajasthan is the most convenient mode of transportation.
Sikkim: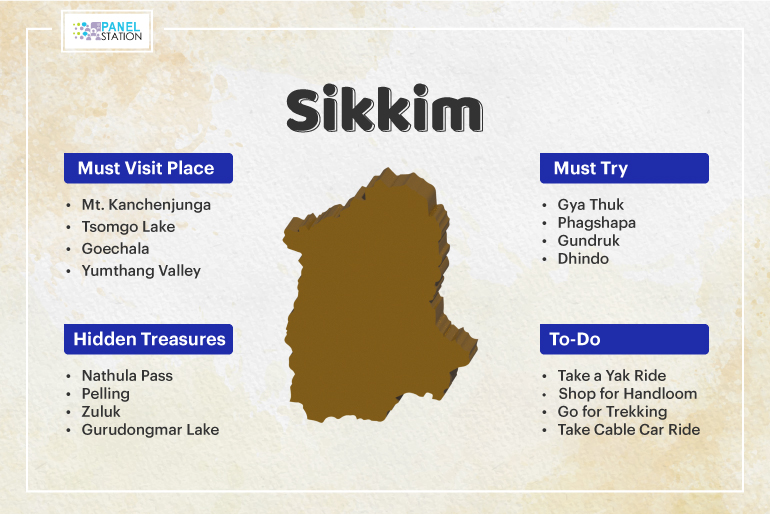 Sikkim is the ideal destination for you if you like to visit an environment where the majestic beauty of green and white mountains shows its vibe. In Sikkim, each season—outside of the monsoon—has something unique to explore. What does the list not include, including the Kangchenjunga view, mesmerising lakes, and diverse landscapes? We recommend purchasing Tibetan Carpets – a reflection of Sikkimese culture can be a great souvenir. Take a flight to Pakyong Airport or Bagdogra Airport, or travel by train to the closest stations, Jalpaiguri and Siliguri; from there, take a car trip to Sikkim.
Tamil Nadu :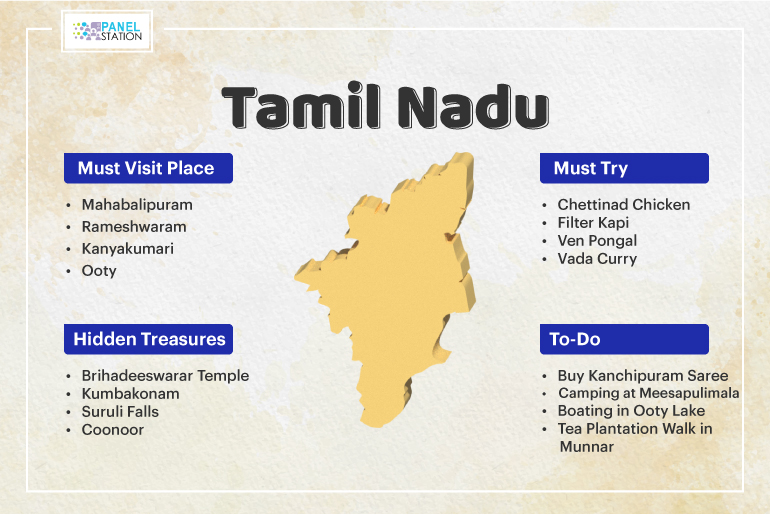 Tamil Nadu is one of the cradles of civilisation, a melting pot of colourful cultures, far-off places, and lasting memories. It is a tourist's paradise with its hills, wildlife, beaches, waterfalls, lakes, forts, monuments, museums, and palaces. Discover the special places from serene beaches and hill stations to UNESCO World Heritage Sites. Tamil Nadu's winter season lasts from October to February, which is ideal for tourist excursions. As a popular tourist destination, the state is well connected by air, road, and train.
Telangana:
Tirupati, one of the biggest temples in India, and Ramoji Film City, the largest film city in the world, are located in the state of India, Telangana. Hyderabad, the capital of Telangana, is well known for its silver filigree, pearl, and lac bangles. When you go shopping, these should be on your list.
As centrally located, the state offers great connectivity. The Rajiv Gandhi International Airport facilitates communication between the outside world and this stunning state. While any time of year would be ideal for a tranquil vacation, we advise avoiding summer because the temperature would be too high to bear.
Tripura:
The third-smallest state in India, Tripura is renowned for its rich cultural diversity, archaeology, handicrafts, and music. It is home to a non-tribal Bengali-speaking populace and 19 indigenous tribes. It stands out among the northeastern states thanks to its stunning rock-cut carvings and stone artwork found at Unakoti, Debtamura, and Pilak. The Ujjayanta Palace in this location is a construction marvel that the state is proud of. There are four distinct seasons in Tripura; however, we advise avoiding the monsoon whenever you wish to visit there. Train & flight journey is the most convenient way to reach Tripura.
Uttar Pradesh:
One of the largest States, Uttar Pradesh, has a lot of tales to tell. The flow of Indian spirituality—from the Ramayana to Krishna to Buddha to the Jain Tirthankars and Sufi Saints—glorifies the state. The Gangetic valley borders Nepal internationally and touches the Vindhya range to the south and the Himalayan foothills to the north. In the UP, you can either delve into ancient stories of mythology or uncover wildlife. UP is also popular for its traditional embroidery fabrics. We'd suggest buying some stunning Banarasi sarees and outfits with Chikan embroidery for your friends, family, and yourself. Plan your trip whenever you choose and take in Uttar Pradesh's splendour.
Uttrakhand: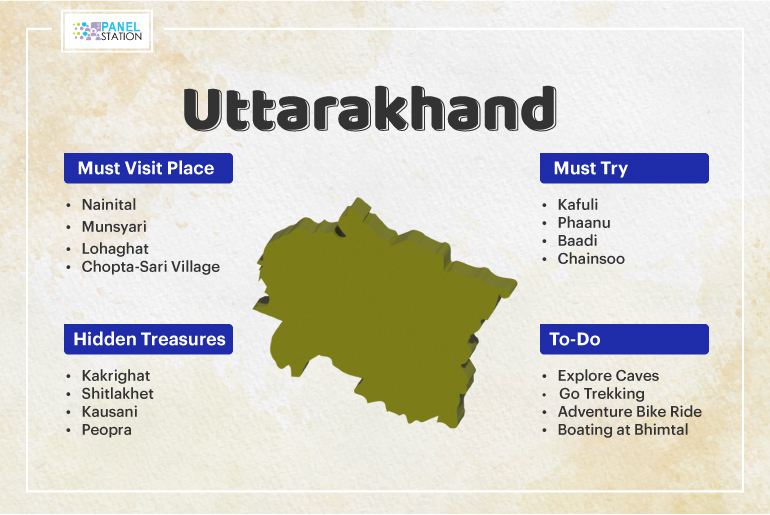 Uttarakhand, a magical place of mountains, mythology, beautiful landscapes, wellness, and yoga, has a lot to offer every traveller in terms of experiences and adventures. Uttarakhand, also referred to as Devbhoomi or the "country of the gods," is home to several well-known destinations, including Nainital, Mussoorie, and Corbett National Park. Any time of the year, for whichever purpose you choose, Uttrakhand tourism will warmly welcome you. When you think of buying some souvenirs, organic honey is the best thing you can spend money on. The greatest seasons, though, are summer, winter, and spring. Jolly Grant Airport and Pantnagar Airport, Uttarakhand's two domestic airports, link with Delhi and provide a hassle-free travel experience. Alternatively, you might use the train or the road.
West Bengal: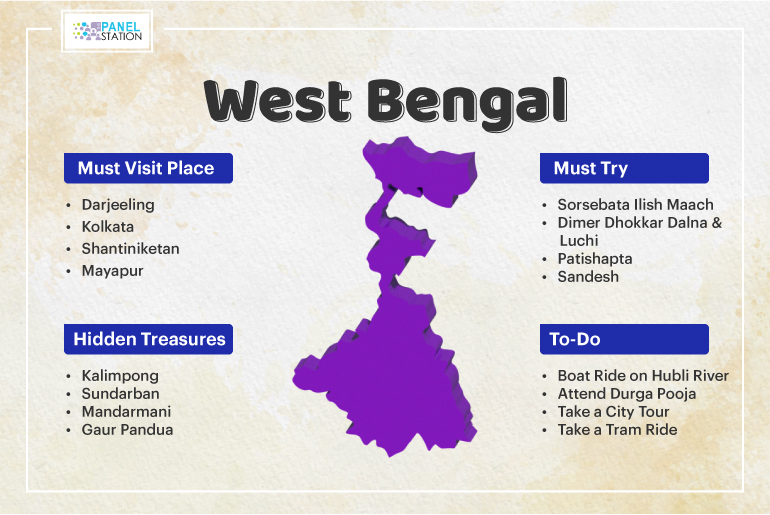 West Bengal is a geographical wonder with everything from mountains to beaches, dense forests to plateaus, and rivers to the sea. The state showcases the cultural fusion of many different religions and communities through its cuisine and festivities. The world's largest delta and the Royal Bengal Tiger are just two of the stunning marvels you may take in throughout your journey. Your finest selections for mementoes might be Darjeeling tea, Conch shell bracelets, Sholapith Handicrafts, and sweet delicacies.
West Bengal is a location for all seasons. You can arrange a trip to Sundarban adventure in the winter, or you can plan s summer visit in Darjeeling for a breathtaking view of the Himalayas. The state is well connected by plane, train, bus, and other road transportation.
Take Away,
India is a magnificent country filled with culture, traditions, wildlife and natural beauty for tourism. Exploring the entire country seems like an arduous task. Nevertheless, each state in India has its own beauty and charm to leave a lasting impression on your mind and heart. If you have ever explored India, share your experience with us. If not, then without further ado, choose a location and embark on a trip to learn and experience this beautiful country. Bon Voyage!