Surveys are pretty useful for companies to gather information about their customers, employees, and people in general. The collection and analysis of relevant data is essential to the making of every strategic decision –  be it for the purpose of releasing a new product, grasping the sentiments of the market about an existing product, understanding the reviews of a product in a new geography, etc.
Types of Surveys:
Depending on the requirement of the business, there are a number of different methods to conducting surveys. These surveys are often conducted by market research companies and very often they reward the participants through vouchers and cash for being a part of the survey community. So, in this article, we're going to take a closer look at these survey types and understand their respective purposes.
Customer Satisfaction Surveys
Customer satisfaction surveys are quite popular among companies to determine the level of acceptance of their products or services among the users. In customer satisfaction surveys, inquiries are often made concerning the customer's experience, including the caliber of the goods or service, the standard of the customer service, and the overall contentment with the firm. This type of survey is an excellent tool for companies to locate areas that need improvement and make required changes to enhance the customer experience.
Market Research Surveys
Surveys for market research are used to gather information about a specific market, to understand consumer preferences, buying habits, and patterns. Market research surveys can be used for product development, pricing strategies, and marketing campaigns.
Political Surveys
Political polls are used to learn what the majority of the population believes about political issues and politicians. Political parties, interest groups, and media companies can conduct polls to assess how the audience feels about a wide range of subjects.
Social Surveys
Information regarding social issues such as health, education, and social welfare is gathered through social surveys. Social surveys can be used to identify areas of need, assess the success of initiatives and guide policy choices.
Demographic Surveys
Demographic surveys are used to discover more about various groups of people, including their age, gender, income, and level of education. Demographic research can help with identifying target audiences for product creation, marketing strategies, and other business decisions.
Website Surveys
Website surveys are used to gather feedback from website visitors about their experience on the site. Website surveys may aid website owners in identifying usability, design and content performances, so they can make changes to improve the user experience.
Brand Awareness Surveys
These kinds of surveys are designed to gauge customer familiarity with a certain brand. Brand awareness studies may give businesses insight into how successful their marketing initiatives are in connecting with customers and show them where they need to work on strengthening their brand recognition.
Product Development Surveys
These surveys gather prospective customers' opinions about a new product or service before it's introduced. They help businesses find potential issues and make improvements to increase the likelihood of success.
Some of These Surveys Are Paid: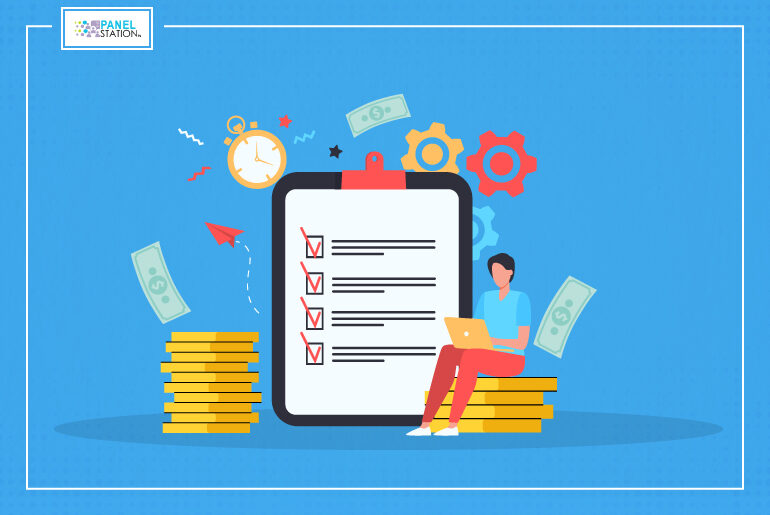 Surveys have become a popular way for companies to gather consumer opinions and feedback. It is now simpler than ever to participate in surveys and get paid for your ideas, thanks to the growth of online survey platforms.
Paid Surveys
Paid surveys are those that reward you with cash or other incentives for completing them. Often, market research firms carry out these surveys on behalf of corporations trying to get relevant customer opinion. Paid surveys can be completed online or through a mobile app, and the payment can range from a few cents to several dollars, depending on the length of the surveys.
Focus Group Surveys
Focus groups are a sort of survey where a group of individuals talk about a certain service or product. A researcher generally moderates the focus group, asking questions and promoting conversation among the members. Focus group surveys are frequently more lucrative than standard surveys and can be conducted in person or online.
Interview Surveys
One-on-one interviews between a researcher and a customer is a method of conducting interview surveys. These surveys can be more in-depth than others and are typically performed over the phone or in person. Surveys with interviews may be used to get more in-depth feedback on a good or service and you get to earn from it even more.
Feedback Surveys
Surveys called feedback surveys are used to get opinions on a certain item or service. These surveys, which may be taken online, are often carried out by the business that manufactures the item or service. Feedback surveys are usually shorter than other types of surveys and may not pay as much as other types of surveys.
Conclusion
Surveys are becoming a common tool used by businesses to get customer inputs. Through surveys, you share your ideas and assist businesses in improving their goods and services and get paid in return. Understanding the many survey kinds available will help you select the finest survey opportunities for you and make the most of them.