Did you know that you, as a consumer, play a decisive part in the making of the goods and services you encounter daily? Did you know that your opinion forms an integral part of a brand's marketing strategy? How, you ask? Allow us to explain. Market research is the foundation on which the pillar of a brand's success stands. And market research is all about knowing the consumers' sentiments regarding the existing products and the ones in the pipeline. 
It is vital for brands and companies to know consumer sentiments and market readiness before they go ahead with launching a new product, be it a car or a pack of biscuits. And this research is done by market research companies. Generally, market research companies maintain a panel base of registered members who qualify for surveys. These members get incentivized for taking surveys in the form of cash, rewards and vouchers. The more surveys they take, the more they earn.
The Panel Station is one such platform that conducts paid surveys to gather your opinions on consumer products that you use or can potentially use. And you are rewarded in exchange.
What You Need to Know
The Panel Station is a leading community of registered members who participate in surveys. It has over 6.3 million panelists, is present in over 40 countries and conducts surveys for leading brands across regions. 
At The Panel Station, we truly value every opinion that you share with us. We make sure that your valuable feedback reaches the brands that you love. The Panel Station act as the bridge between you and your preferred brands, creating a seamless connection. We understand that your time and thoughts are valuable, which is why we believe in rewarding you for your participation. As a rewards-based platform, we celebrate the power of your voice by offering not only our gratitude, but also cash and vouchers. So, join us at The Panel Station and let your opinions be heard while being rewarded for them!
How Does it Serve Your Interest
While there are many reasons for joining The Panel Station, here are our top two reasons. When you join The Panel Station, you get an opportunity to voice your opinion on brands and services. The market is all about consumers, and brands need to know your sentiments in order to cater to you. When you speak, brands listen. And by sharing your voice, you are not just helping the brands get the right products into the market but also helping consumers around the world to get the best for every penny they pay. 
While the above reason is a noble cause, the second reason is about earning some extra money. And who doesn't love to make some extra money? When you complete surveys with The Panel Station, we reward you handsomely. And the rewards are not restricted to just surveys. The Panel Station has a large social media presence too. We conduct regular contests and giveaways where you can participate and win amazing gift vouchers from your favorite brands like Amazon, PayPal, Uber Eats, Uber and many more. So, when you have a downtime from surveys, you can always have great fun on our social pages.
So, if you want to earn some extra money and are looking for a credible source, The Panel Station is where you need to be. Our panelists win over $2 Million worth of vouchers and cash every year for taking up surveys. 
How to Join The Panel Station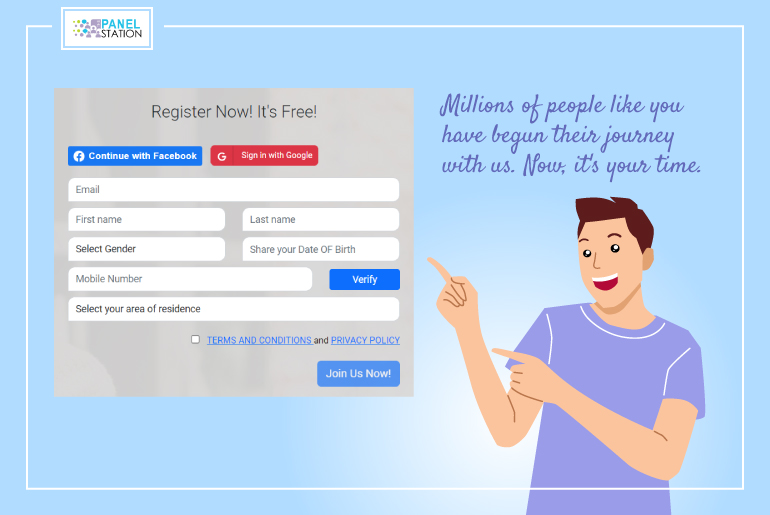 Joining the panel station is a cakewalk. All you need to do is register here. Once you fill up the form and confirm your OTP, you will get an email verification. Confirm your joining through your registered mail id and Viola! It's done. The next and most crucial step is to fill up your profiler survey. 
A profiler survey is where we ask a set of questionnaires to you regarding your age, location, hobbies and interests, purchasing habits etc. This will help us match you with the perfect survey. A profiler survey is important for many reasons. We understand that when you get the right survey that interests you, you will complete it with utmost honesty. And this will help the brands to shape their products accordingly. If you are concerned about privacy and data leaks, know that The Panel Station is ISO/IEC 27001:2013 and ISO/IEC 27701:2019 certified company, and we take adequate steps to help protect your personal information. We employ industry-standard security measures designed to protect the security of all information submitted by you.
What are Surveys All About?
Speaking of surveys, here is all you need to know about the types of surveys you will receive on The Panel Station.  Of all the surveys available, we specialize in market research surveys which are done to gather information about consumer preferences, buying habits and patterns.
To explain it further, if you are living in a city, working in an IT firm and driving a sedan to office, a car brand might be interested in knowing your views on the type of car you drive, the distance you commute, the money you spend on fuel, your preference for the next car etc. The answers to questions will help the car manufacturer to either upgrade their car to ensure a smooth ride or incorporate your views in their upcoming model. So, every survey you complete on The Panel Station is an opportunity for you to shape the products and services you use.
The Reward Process
Now to focus on the good part, The Panel Station rewards its panelists at every step. Right from filling out the profiler survey, to completing a survey, to referring a friend, you get to earn rewards in the form of points. When you reach the threshold, these points can be redeemed for cash or vouchers. Remember, the more surveys you take, the more money you earn.
We have leading brands as our gifting partners and you can choose your favorite brand available in your country. These rewards are not limited to surveys. You can earn rewards in your favorite way from The Panel Station social media platforms too, where contests and giveaways are conducted on a regular basis. There is no cutting corners on rewards, you can trust us on that. So, join The Panel Station today!
Best Practices to Take Surveys
Now that you are all set to take surveys, you must make a note of the best practices to keep in mind while taking surveys. 
Choose reputed and legitimate online survey platforms

Have the survey website app installed on your phone

Do not miss mails regarding survey updates

Keep your profiler survey updated

Do not rush through the survey

Be honest in your answers

Last but not the least, enjoy the rewards
Follow the above guidelines and you will be able to make extra money through online surveys. 
Conclusion
Let's sum it up. When you join The Panel Station, you will basically be accomplishing two greater tasks. First, being able to share your voice and opinion on products and services. This will serve a greater goal of helping consumers get the right products for the money they spend. And the second is being able to earn some extra money from the comfort of your home. 
Getting started with The Panel Station is easy. Register and start taking surveys. 
Begin your survey journey with The Panel Station today.