Who isn't fascinated by rewards? Doesn't an instant smile brighten your face when you receive extra points or a gift voucher for making a payment or a transaction? But have you ever wondered why businesses have these reward programs? Apart from monetary transactions, you can earn rewards from many sources like online surveys, referral programs, playing online games and product reviews. In this article, we'll explain how to earn online rewards and how you can optimize your chances of getting maximum rewards. 
Before diving into the secrets of earning rewards online, you need to know that online rewards and loyalty programs are basically designed to create an emotional connection between brands and consumers. It is your opinion, your feedback and your further actions with regards to the brands is what shapes the future of a brand. So, while brands make the most out of your time and effort, take your chance to collect all goodies from online rewards and loyalty programs.
How to Earn Online Rewards
Okay, now that we know why rewards programs are so amazing, let's talk about how to earn them online so you can start using them right away. Getting in on the action may be done in a number of different ways, but let's look at some of the easiest and simplest methods to earn rewards online.
Taking Online Surveys
Online surveys are an excellent way for earning rewards online. Simply register for websites that conduct online surveys, respond to questions, and you will be able to earn points that you can redeem for gift cards or cash. It's not only surveys, either; several survey portals provide loyalty and incentive programs through their social media channels. So, you can participate in those and earn even more rewards! 
To start with, The Panel Station is a great survey community that provides regular surveys. They also have one of the most happening social media platforms where you can take part in contests and giveaways and win rewards and vouchers. Register now.
Overall, participating in online surveys is a fun and effortless method to earn rewards while staying in the convenience of your own home. Plus, you'll be providing valuable feedback to businesses and helping them improve their products and services. It's a win-win situation! 
Click here to know how to choose the best paid online survey sites to make money.
Playing Games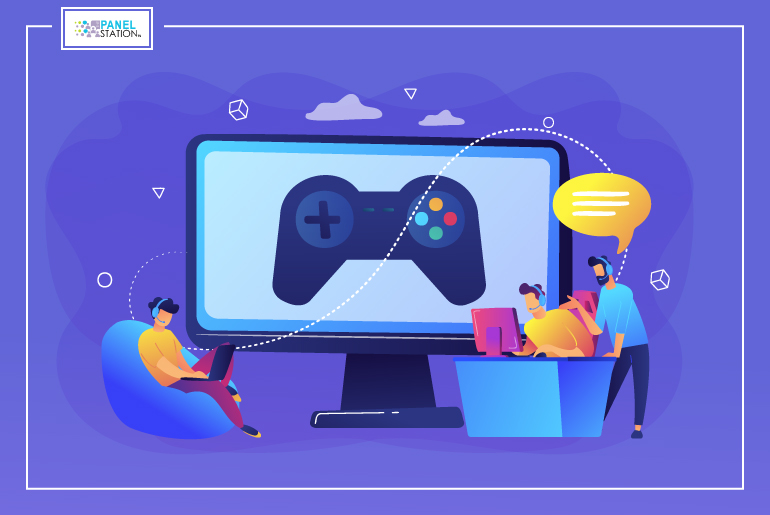 Do you love playing online games? If you spend a lot of time playing video games online, why not use that time to bring in some extra cash through reward points?
Several gaming firms and app developers have partnerships with rewards sites with users who enjoy playing games and have joined the site. Signing up for gaming portals and other online platforms where you may earn rewards in the form of cash and vouchers simply for playing the games offered on those platforms is all that is required of you to get started.
You can earn rewards and vouchers by taking part in a wide variety of games, from arcade games such as card games, strategy games, and word games to more exciting activities such as poker, casinos, and Wheels of Fortune. And the greatest part is, even if you're not a professional gamer, you can still make a few thousand bucks a year simply by playing games in your own time.
Referral Bonus
Have you ever recommended a brand or a product to a close friend or member of your own family? Well, you can actually get rewards for doing exactly that if you participate in referral programs, though!
When you refer a friend, family or colleague to a brand running a referral program, you both have the opportunity to earn rewards in the form of exclusive discounts, points, free delivery, and a variety of other wonderful benefits. The one you referred will also be able to learn about a new company or product, and you will be rewarded for spreading the word about it. This is a situation in which everyone involved can benefit.
In addition, referral programs are an excellent tool for companies to use in converting customers into loyalists who will then become the most effective advocates for their company. So, if you have a preference for a particular company or product, why not spread the word about it and earn some incentives in the process?
Credit Card Reward Points
Earning reward points through credit cards is a well-known way, probably the most popular way too. Many banks provide rewards programs that can earn you some fantastic perks. These reward programs incentivize you to make purchases, pay bills, eat out, and travel with your credit card. In addition, the more you use your card, the more points you will be able to accumulate. When you have accumulated a sufficient number of points, you will be able to trade them in for a wide variety of awesome rewards, like frequent flier miles, cash, products, and gift vouchers.
So, if you are someone who uses credit cards rather frequently, participating in a rewards program may be an excellent method for you to earn some extra goodies!
Watch Videos
 
Have you ever considered earning reward points just by watching videos? There are websites that will give you cash or gift cards in exchange for watching videos on their site. Watching videos, which may contain movie trailers, advertising, and sponsored content, is all that is required of you to complete the offer. At other times, you can simply let the movies play in the background while you focus on other things. While you may not earn a lot, it's still worth giving it a try since it's such an easy way to earn some extra cash or gift cards.
Optimize Your Chance of Getting Maximum Rewards
Earning rewards online is not just about trying out different sources. It is about adopting some smart and best practices to optimize your chances of winning rewards regularly. Let's look at some of the important points that you should consider.
Sign up for multiple reward programs: If you want to increase your chances of receiving rewards regularly, you must sign up for a number of different reward programs. The more programs you participate in, the more you increase your chances of winning.
Be consistent in your activities: Consistency is the most important factor when it comes to earning greater rewards online. Be it playing games or taking online surveys, the more you actively participate, the more rewards you can earn.
Make sure you frequently check your email: Email is used by a lot of different reward programs to send out messages and alerts. Always be sure to check your email so you can keep informed about the newest opportunities to earn rewards.
Redeem your incentives in a timely manner: Do not allow your prizes to lapse or get unused. You will obtain the biggest benefit from your efforts if you redeem them as soon as possible.
To Sum it Up
Brands encourage rewards and loyalty programs to effectively convey their brand's value to their customers. It creates excitement in you to engage with the brand again and again. By participating in these programs, you can get some amazing perks like discounts, freebies, and even cashback. Then why hold off? Start exploring these rewards and loyalty programs today and enjoy the benefits that come with being a loyal customer!