It was a very exciting day for Nura at the driving school. She was excited to get her hands on the wheel. Many Saudi Arabian women like Nura joined driving classes designed for women and were preparing for an event that will count as a milestone in the history of the country. The past was not in favour of women, but the future is. The country where a woman could be imprisoned for driving is now open to change. In 2018, the Saudi General Directorate of Traffic announced that women would now be allowed to drive taxis and become taxi drivers. It was a step towards the upliftment and empowerment of Saudi Arabian women. The Saudi Arabia Vision 2030 announced by Crown Prince Mohammad Bin Salman had opened many doors of opportunity for women in various sectors.
Saudi Arabia's Vision 2030:
Saudi Arabia Vision 2030 aims to diversify the economy and reduce its reliance on oil. The vision is based on three major themes: a dynamic society, a thriving economy, and a bold nation. In order to create a dynamic society, Saudi Arabia Vision 2030 has outlined reform objectives for Saudi Arabian women's growth and advancement. These reforms are in the areas of business, social, and legal. The regulations providing physical education lessons and permitting women to participate in sports have encouraged many Saudi Arabian women to come forward. This minor act is the first step toward providing girls and women equal opportunity is to rise. Lifting the ban on women travelling abroad and giving women above the age of 21 more autonomy in social and economic matters shows how Saudi Arabia is taking serious steps towards modernising women's rights and gender equality.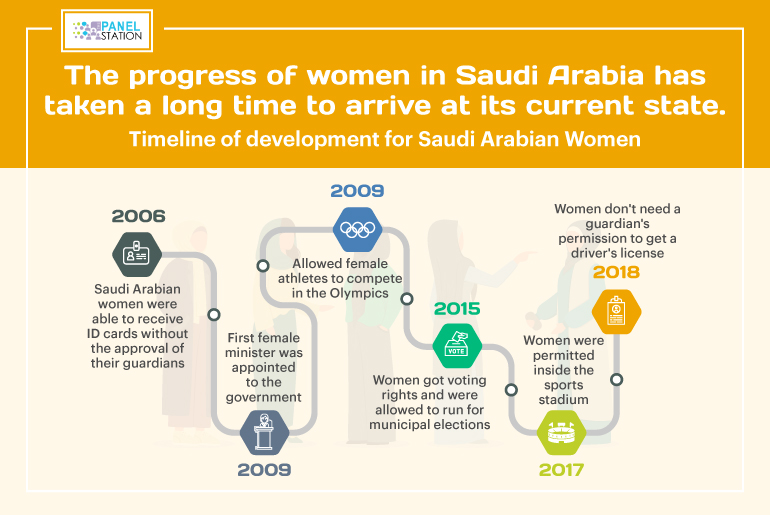 Growth through Educational Opportunity:
Women make up half of Saudi Arabia's university graduates, and it is important to nurture and develop their talents. Investing in their productive capabilities will encourage them to contribute to the growth of the community and economy. To aid this, Saudi Arabia also intends to raise women's labour-force participation from 22% to 30%. Post the implementation of these reforms, Saudi Arabian women have advanced far ahead in all areas of academia. Government scholarship programmes have also encouraged women to choose career-oriented subjects for specialisation.
Social Changes and Empowerment:
Saudi Arabia, once considered a male-dominated society, is gradually but steadily opening its doors of freedom and opportunity to its women. After the government implemented new reforms and regulations in 2019, the world witnessed the gradual development and progress of Saudi Arabian women. New opportunities have emerged, and women actively participate in the labour force.
Freedom is nothing more than the potential to be better, and this can only be achieved by providing equal opportunity to both men and women. Saudi Arabia's Vision 2030 includes regulations to equalise women's right to select their location of residence and outlaws gender discrimination. It also forbids employers from firing pregnant women and promotes pension equality by equalising retirement ages for men and women.
The government has created occupations for women in the public sector, such as legal researchers at the Ministry of Justice and posts at airports and land border crossings. The country has also named its first female ambassador, who will be the kingdom's envoy to the United States.
A Modern Fashion Statement for Women:
The changes can be seen not just in the workforce but also at a social level. Liberalising women's clothing codes has made way for personal fashion expression. In recent years, Saudi Arabian women have begun to wear more colourful abayas in addition to the usual black ones. Abayas are currently available in a variety of colours, styles, fabrics, and designs. International fashion houses are beginning to incorporate Arab culture. Muslim models wearing hijab took centre stage on the runway during Milan Fashion Week 2018, representing Italian companies Alberta Ferretti and Max Mara. Riyadh hosted its first Arab Fashion Week, which was listed as an international fashion week alongside Paris and Milan, with an ambition to establish Saudi Arabia as a hub for a burgeoning regional fashion sector.
Women in Leadership:
Women are being introduced to new leadership and economic empowerment levels as part of Vision 2030. Female entrepreneurs are now developing and managing a greater number of small and medium-sized businesses in Saudi Arabia (SMEs). According to business studies conducted, over the last decade, the number of female entrepreneurs has climbed by more than 35%, accounting for over one-fifth of all entrepreneurs in the country in 2017.
Vision 2030 reform measures benefit over 6 million Saudi Arabian women over the age of 21 and will help women for many generations to come. In 2020 alone, 7,782 women entered the construction industry, and 6,662 joined new roles in manufacturing, where women's work was previously barred by law. Saudi Arabian women are now in a powerful and competitive position for occupations as a result of the government's backing and Vision 2030, which empowers them. Saudi Vision 2030 has ranked women's empowerment among its top priorities. The Saudi Arabian women are today more engaged than ever in society, government, and business sectors.
Overall Impact
Progress is impossible without change, and for any country to progress, it is vital that everyone, regardless of caste, creed, and gender has an equal opportunity to grow and prosper. It is hard to envisage a progressive society without equality. Saudi Arabia Vision 2030 is a foundation for not just economic growth but also citizen development. The change in policies has transformed the lives of many Saudi Arabian women and will continue to transform the country's future in a positive way.