Get her to register with The Panel Station before May 31 and earn a joining bonus worth 800 points.

Choose rewards from voucher partners like Amazon, Walmart, Ikea and Uber.
We have all heard of superheroes zooming across the sky, saving lives and fighting crimes. But not all superheroes wear capes. Mothers are the superheroes of the home, who can do it all. They have the multitasking skills of a supercomputer and the patience level of the Dalai Lama. From preparing a three-course meal to moderating office meetings, from locating any lost item in the house to mediating a fight between their children, they have the uncanny ability to save the day with their magic touch. So, when it comes to choosing a present for mom, it always feels like solving a zig-saw puzzle in the dark. You don't want to give her something too generic, like a bouquet of flowers or a bag of candies, because, let's face it, she has seen it all. And you definitely don't want to give her something too weird. Hang on. Mother's Day gift ideas are not a tough nut to crack.
To make things easy for you, we have specially curated a list of amazing and unique Mother's Day gift ideas  that you can give your mom. But before going ahead, you need to remember that gifts are only temporary. It is the feelings that matter the most. If you want to do something special for her, you must ensure that she receives a gift that she can cherish for a lifetime. It should not only be practical but also useful and give her benefits in return for the time she spends with it.
To start with, you can enroll her on The Panel Station survey platform, where you will receive points for completing surveys. And the best part is The Panel Station is giving away a special Mother's Day joining bonus for registering this month (May). So, Register Today and get a joining bonus of 800 points. You can redeem your points from top brands like Amazon, Uber Eats, PayPal etc. around the world too. 
Other Perfect Gift Ideas You Will Find in The Panel Station: One for Each Type
For a Fitness Freak Mom
Fitness freak moms who start their days with a cup of green tea and never miss a day at the gym cannot be pleased with the cheesy 'World's Best Mom' mug. What would really make her happy is if you woke up early and joined her for her morning walks or exercises. But if that's too much for you, we have got better Mother's Day gift ideas. You can choose fitness gear like a sports watch, a high-tech fitness tracker or a running shoe. Make sure to double-check her size before buying her a shoe because you don't want to freak out a mom with strong abs and biceps with the wrong size of shoes.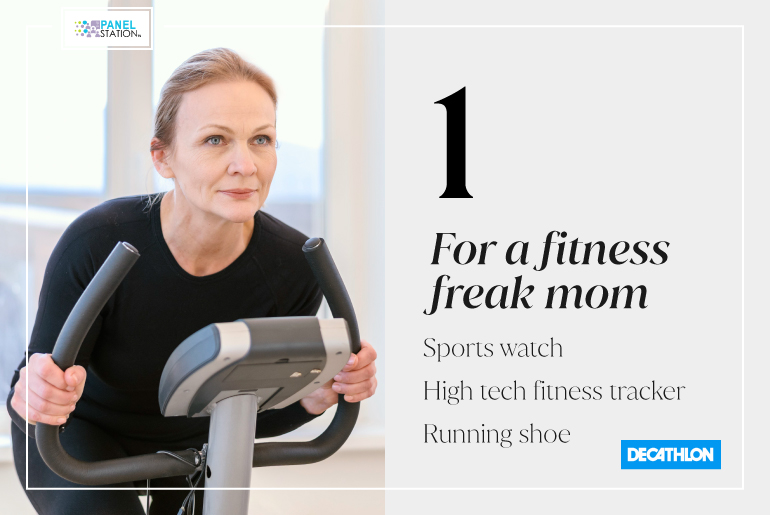 Get Decathlon gift voucher by joining The Panel Station and taking surveys. The process is as easy as a pie. Register this month (May) to get a special Mother's Day joining bonus of 800 points. What can be a better Mother's Day gift idea than this?
For a MasterChef Mom
Finding the right gift for moms who are good cooks is like giving a MasterChef a lesson in boiling eggs. Fear not, for there are plenty of good Mother's Day gift ideas for great cook moms. Don't even think of gifting her a pack of Tupperware boxes. Instead, give her a day off from the kitchen, and you can take charge of all the food. Right from breakfast to dinner, make her feel special by setting a table of delicious food. And if you are someone who needs help even in boiling water, take a safer route and order some delicious food online.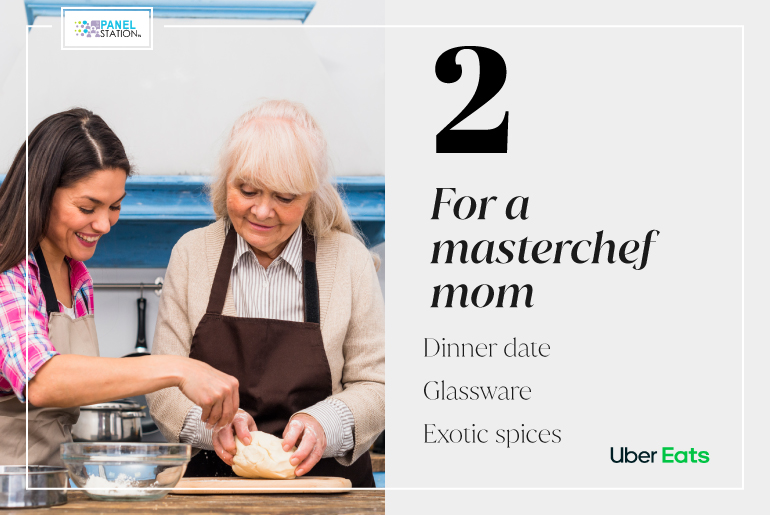 Thinking of a thoughtful gift for mother's day? We have UberEats vouchers that you can redeem with your The Panel Station points. Register today and avail a special Mother's Day joining bonus of 800 points. Special offer available only till 31st May 2023.
For a Workaholic Mom
Thinking of Mother's Day gift ideas for a workaholic mom? You must know that workaholic moms are always on the move, juggling work and family like the super mom from the movie The Incredibles. So, if you want to impress her with a gift, it better be practical and useful. Think sleek laptop bags, fancy desk accessories, and sophisticated planners. And if all else fails, you can always go for a desk organizer, because even a workaholic mom needs to keep her pens and paper clips in check. Just make sure to order them in advance. After all, you don't want to be that kid who forgot about Mother's Day and had to resort to a flower bouquet after seeing a viral Mother's Day video on social media. Trust us, your mom deserves better than that.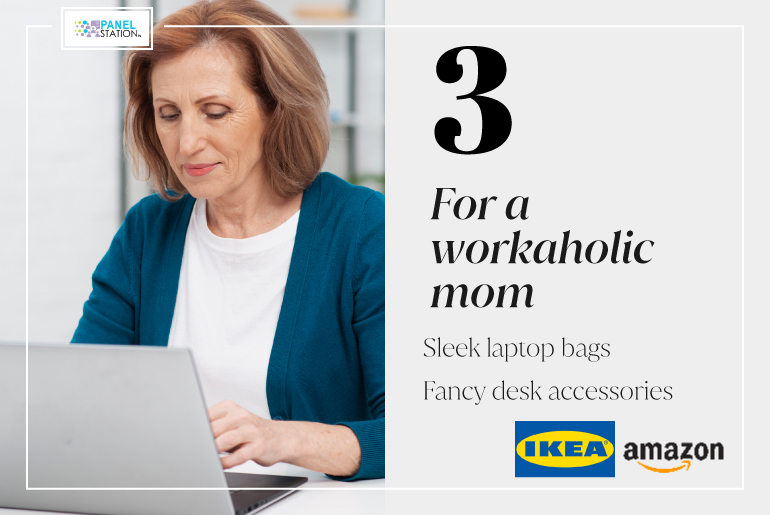 If you are looking for Mother's Day gift ideas for a workaholic mom, The Panel Station has got you covered! Register yourself and your dear mom to score 800 points as a joining bonus, and treat yourselves to some IKEA and Amazon vouchers. Trust us, earning has never been this easy and delightful!
For a Zen Mom
Zen moms are easy to please as they always maintain a level of calmness and peace within themselves. An ideal Mother's Day gift for her would be something that would help achieve inner serenity. You can go all out by planning a weekend retreat at a yoga and meditation center. With all the chaos that comes with running a household and raising kids, meditation will help her get some 'me-time'. It will be like a spa day in her mind, and who doesn't love a good mental massage?
Need a ride to your yoga center? Don't sweat it, we've got your back! Sign up with The Panel Station this month and earn 800 points as a joining bonus for you and your fabulous mom. And guess what? You can use those points to score some sweet Uber vouchers! So why wait? Register Today!
For a Classy Mom
Well, well, well, we are talking about classy moms here. If you are thinking of unique Mother's Day gift ideas, better get her a gift that's as stylish as her designer handbags. If you want to make her feel like royalty, why not give her a monogrammed handkerchief or a classy novel by William Shakespeare? You do not have to break the bank to find that gift, you could always just give her a card that says "Thanks for being the classiest mom" because sometimes a simple gesture is all it takes to make her day.
Sign up with The Panel Station this May and get a joining bonus of 800 points. And the best part? You can redeem those points for Target and eBay vouchers! So, join the fun and shower your mom with some swanky presents!
For a Nomadic Mom
If you have an Indiana Jones type of mom who loves to travel, explore new places and gather new experiences, you want to give her something that will make their adventure more memorable. Maybe a personalized travel bag, a passport holder or a high-tech camera to capture all the amazing moments on her trip would do the magic. But if you want to go big, you can gift her a travel package to her dream destination. Remember to check her schedule first, for she already might have plans for her next adventure.
Before your mom sets off on her epic journey, make sure to sign her up on The Panel Station because we're offering some awesome Decathlon vouchers that will make her trip even more exhilarating!
In Conclusion
Though it is not an easy task to choose a perfect gift for moms, the above-mentioned ideas will surely make her heart swell with pride. Having an easy source of extra income is always a charm. Get your mom registered on The Panel Station. Completing surveys on The Panel Station will get you amazing vouchers and gift cards from top brands like Amazon, PayPal, UberEats, UberGo, Cakecity, IKEA, Target and many more. Also you get a Mother's Day special joining bonus of 800 points if you register in May. Just in time for Mother's Day! Happy shopping and Happy Mother's Day to all the wonderful moms out there!
Note:
Once you register, mail us your country name with the subject line
#mymothersdaygift
at
surveys@thepanelstation.com