Mental health is as essential for achieving overall physical well-being. In the modern lifestyle, we often surrender ourselves to unhealthy food habits, an unorganised routine, and an exhausted office environment. Those unhealthy habits of eating, unbalanced work, overwork stress, and everything else harm the present and threaten the future. With rising work pressure, people often deal with anxiety and stress, leading them to a dark hole of depression. Is there any solution that exists? Well, yes! Yoga, the ancient method of physical and mental exercise which elevates mental health, is the perfect way to redesign our imperfect life.
An unhealthy mental condition is not limited to the person's problem, directly or indirectly; whoever deals with the person willingly or unwillingly is affected by the situation. So, Taking care of mental health is considered essential and unavoidable.
Now is the time to enlighten some benefits of yoga in rejuvenating mental health.
Benefits of Yoga in Mental Wellness:
"Just breath in and breath out."
That's all? Well, not exactly. In yoga, there is no single way but multiple ways.
Physical exercise adds refreshment to your physical health, maintaining the body fit and active. But some yogasanas are highly effective in boosting mental health. Stress, anxiety, depression, & anything you relate to an unhealthy mind, will help you reduce them and will fill your life with peace. So, let's find out how yoga could be your best partner for better mental wellness.
No Stress:
Practising yoga every day helps in eliminating stress. It provides a moment of calmness when you find yourself stuck in a crowd.
Better Memory:
Everyday yoga means strengthening your mind. It boosts your memory power, including your performance at work.
Improved Mood:
Anyone can have a bad day at work, but yoga can help you control your mood swings and elevate your mood.
Increase Focus:
With daily yoga, habit helps you increase your focus. Workplace to home, everywhere, your mind will only feel better.
Reduce Anxiety or Depression:
Because of increased work stress, anxiety and depression have become the common signs of mental health issues. Yoga shows an effective result in decreasing those symptoms.
Better Sleep:
With a relaxed mind, there is no doubt that sleep will get better. And when a person gets a good night's sleep, productivity, concentration, and focus, everything gets better.
Now, you're aware that yoga helps you improve mental health. It's time to talk about some amazing and easy yoga poses to start with.
Balasna (Child Pose):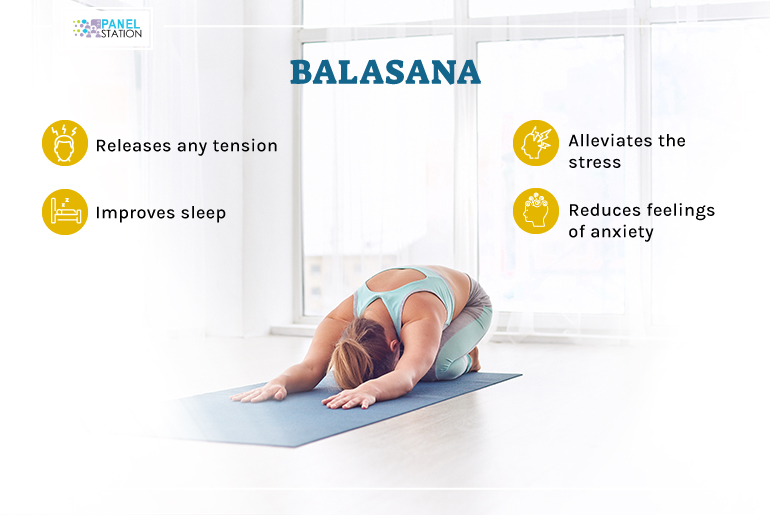 This yoga pose comes with an immense number of benefits for your physical and mental health.
Releases any tension
Improves sleep
Alleviates the stress
Reduces feelings of anxiety
Now that you know its benefits learn how to do child pose or Balasana. To do Balasana, you need to follow some easy steps:
Kneel and sit on your hips on the floor. Your toes should be in touch with one another.

Inhale while placing your knees hip-width apart.

Exhale as you bend forward as well as stretch your arms straight.

Maintain this posture for two to three minutes.

Finally, take a leisurely breath in and return to the beginning posture.
Sukhasana (Easy Pose):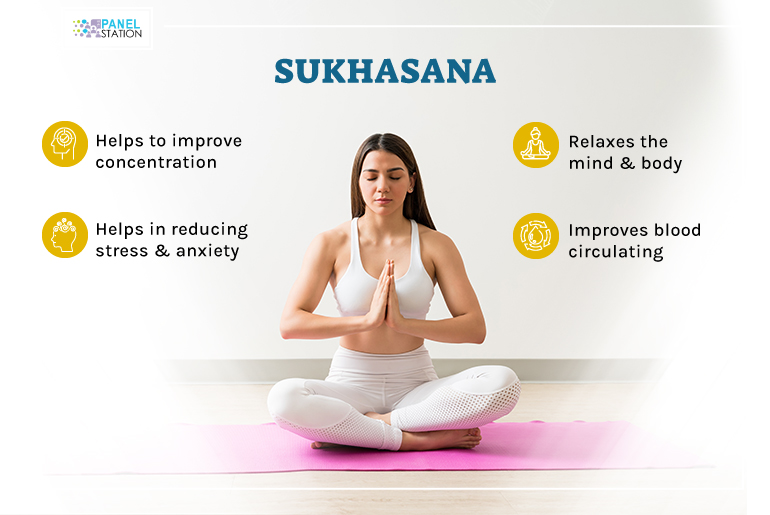 'Sukh' – the word stands for happiness, ease, or bliss. So, if you practice this yoga every day, it will bring stability and wellness to your mind.
Helps to improve concentration
Helps in reducing stress & anxiety
Relaxes the mind and body
Improves blood circulating
From the above list of benefits of Sukhasana, you can understand how beneficial this asana could be. So, let's start your practice by following the exact steps:
Sit with your legs extending in front of you, straight forward.
Underneath the right thigh, fold the left leg. Then, with the right foot beneath the left thigh, do the same with the left.
Maintain a comfortable erect posture for your head, neck, and spine.

Rest your hands on your knees or lap, or you can join your two palms in the 'namaskar' position (shown in the image). Relax every muscle in your body. Close your eyes for a moment.
Padmasana (Lotus Pose):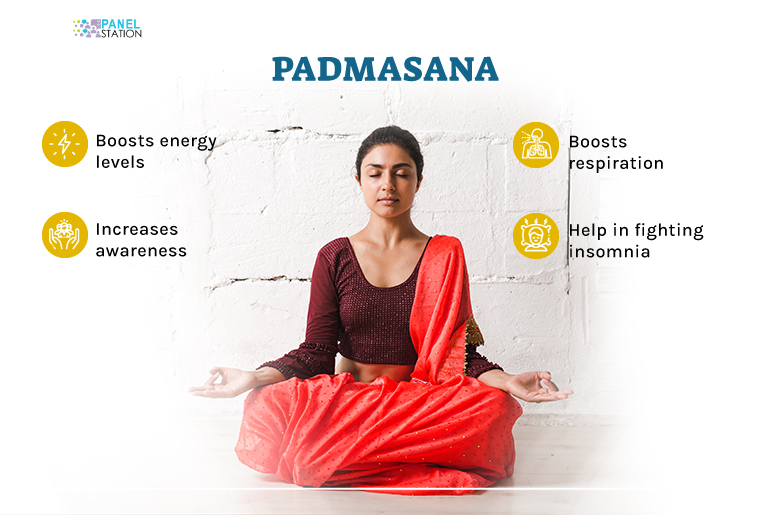 Padmasana is one of the most beneficial poses that helps correct your posture and works on inner energy. Let's find out what are those other benefits of padmasana improve the health of your brain.
Boosts energy levels
Increases awareness
Boosts respiration
Help in fighting insomnia
The benefits of padmasana are not limited to mental health but also add positive changes in physical fitness.
You may wonder how to do padmasana to reactivate the energy within and receive the maximum advantage of this yoga pose. Here's is the proper guide:
Sit with your legs on the floor or a mat, keeping your spine straight.
Place the right knee on the left thigh by bending it. Make sure your feet's soles point upward and your heel is near your abdomen.
Place your hands on your knees in a mudra pose with both legs crossed and feet on opposing thighs.
Maintain a straight spine and a straight head. Continue to take long, soft breaths in and out.
Uttanasana (Standing Forward Bend Pose):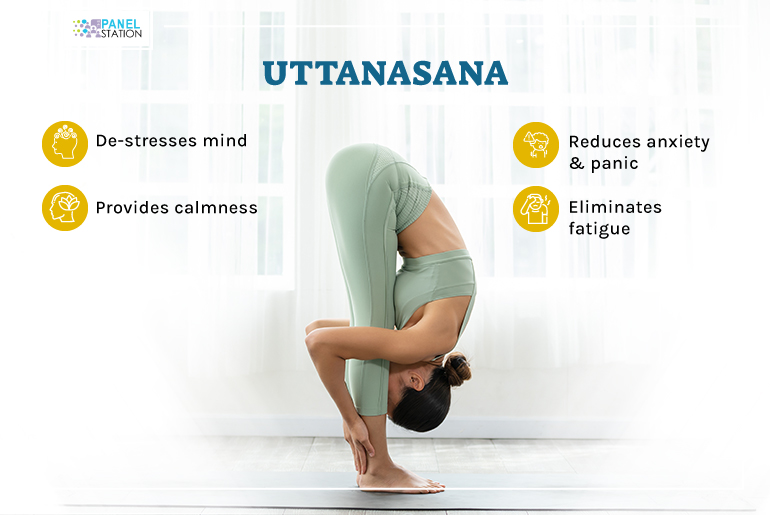 This standing yoga pose might seem hard to begin with. However, keeping the asana out of the list is challenging because of its benefits on mental health. It is highly effective for the health of your mind.
De-stresses mind
Provides calmness
Reduces anxiety & panic
Eliminates fatigue
If you're going through any mental trauma, start practising this yoga. Now, follow the steps to get mental peace:
Start with Tadasana (Mountain Pose), with your hands at your hips, at the front of the mat.
Hinge from the hips, not the lower back, by bending your knees slightly and folding your body over your legs.
Your hands may land on the ground adjacent to your feet or in front of you. Inhale and open your chest to lengthen your spine.
After exhaling, slowly and without excessive extension, straighten both legs. As you gently spiral your inner thighs backwards, lift your kneecaps.
Extend your torso down on an exhale without rounding your back. Bend your shoulders down your back toward your hips while lengthening your neck and extending the crown of your head toward the ground.
Savasana (Corpse Pose):
Easy is what you can relate with savasana or corpse position. It helps in relaxing the body and mind. Savasana is always advised to conclude a yoga session since it will relax the body after a rigorous practice. We've listed some significant benefits of savasana below:
Calms the central nervous system
Improve immune systems
Boosts consciousness
Reduces headache, stress, & anxiety
As already mentioned, this is the easiest of all yogasana. Let's explain how to do savasana:
Lie on your back, knees straight and arms at your sides.
Allow your feet to fall into place and lay your palms facing up naturally.
Close your eyes for a moment. Take a deep breath and relax.
Bring your attention to the peaceful music around you if your mind starts to stray. And then focus on your breathing.
On the last note,
These five yoga poses are good for mental wellness and help balance work and life. These beginner poses are easy and convenient. It is always recommended to practice yogasana in the morning for better results. However, there are a few hatha yoga, including advanced breathing techniques to improve your body and mind. Here are some advanced yogasana for experts for a healthier mind.
Some essentials are mandatory to begin your practice, like a yoga mat. But how will you adjust those additional purchases with a compact budget plan? Well, The panel station has the solution. Sign up with us to become a valuable panellist and begin taking our surveys. You can redeem an Amazon voucher with earned points for each complete survey. With which you can buy any yoga essentials without compromising your monthly budget.